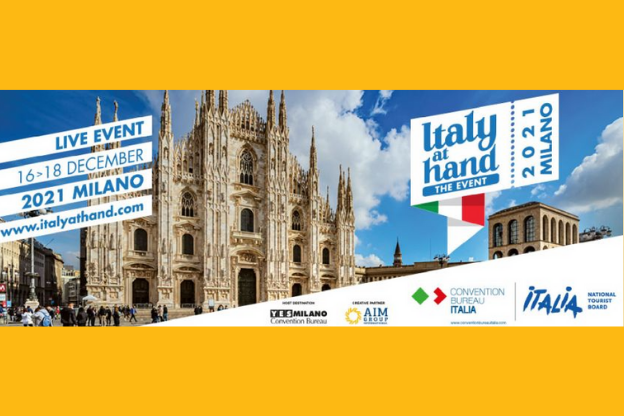 14-09-2021
AIM Group International is the Creative Partner of Italy at Hand 2021
AIM Group joins the strategic partnerships for the organization of Italy at Hand 2021 – Milan, the B2B workshop organized by ENIT, Convention Bureau Italia and YesMilano Convention Bureau as Host Destination to present the Italian offer to top international buyers.
Italy at Hand 2021 will be held in Milan from 16 to 18 December 2021, with a 100% in-person format. During three days 45 highly qualified buyers will meet 35 selected representative of the Italian meeting industry, for over 1.000 B2B meetings overall. The program includes also pre and post tours and some engaging experiences for guests to discover the undisputed beauty of Italy, and in particular of Milan.
AIM Group International, Top Agency member of the Convention Bureau Italia, is the Creative Partner of the event, so it is the agency responsible for the organization and creativity of all the interactive activities offered to all participants to taste the Italian culture and destination.
"We are sure that a strong, long-term partner such as AIM Group could play a crucial role for the success of such an important event in our annual program" comments Tobia Salvadori, CB Italia Director. "Italy at Hand workshop will be developed in three days full of business and entertainment activities, in a perfect Italian style. The excellences of the Italian Meeting Industry will meet the best of the international buyer scene. The contribution of the Creative Partners has always been fundamental in involving the participants, with activities that made them savour the authenticity, creativity and ingenuity that the whole world envies to Italy. Thanks to the 'legendary' experience gained in the sector by AIM Group, we are sure that this year Italy at Hand will be memorable for all participants" concludes Tobia.
"We are very happy to be Partner of CB Italia in the organization of Italy at Hand, the event that promotes Italian destinations and facilitate the collaboration between clients and the Italian offer. This is a very important occasion, especially in this re-start phase, and that is why we have embraced the idea with great enthusiasm. The event will bring many international buyers to discover Milan and be involved in an experiential path in view of new face-to-face meetings. Italy is close at hand, and we are ready to make every single event unique and unforgettable" underlines Flaminia Roberti, Global Sales Director AIM Group International.
International Hosted Buyer who wants to participate in the event must apply online at https://www.conventionbureauitalia.com/boxit/italy-at-hand-2021/