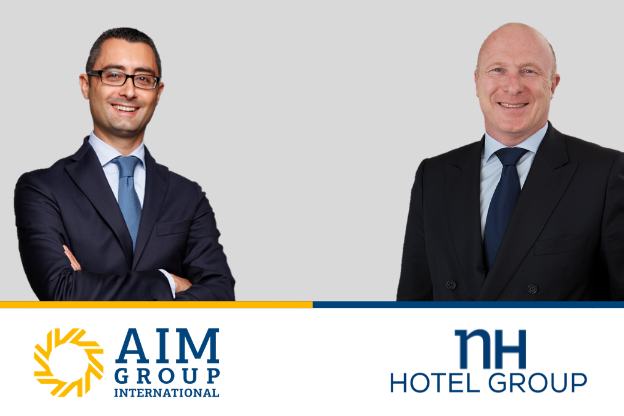 10-10-2018
AIM Group and NH Hotel Group strengthen their partnership
AIM Group International and NH Hotel Group have further strengthened their partnership and renewed their existing agreement for a further three years.
AIM Group International, a leader in congresses and events management for over 58 years, and NH Hotel Group, a world-leading hotel chain with a portfolio of around 400 hotels in 30 markets, have been working together for more than 15 years, with the common goal of providing clients with excellent services and better conditions.
This global contract includes the provision of favourable conditions to AIM Group clients, dedicated to corporate event organisation.
In particular, AIM Group works with NH Hotel Group in connection with both providing accommodation and hosting events at the efficient meeting facilities that its hotels offer, along with specific know-how and professionalism. The AIM Group and NH Hotel Group share the common goal of striving to make any event an unforgettable experience.
Furthermore, NH Hotel Group and AIM Group are companies with a strong international vision. Their multilingual and multi-ethnic teams are ideally suited to meeting the needs of international groups. No matter where participants and clients come from, AIM Group and NH Hotel Group will develop dedicated solutions to make them feel at home.
"Our consolidated partnership is growing every year and drives us to always find new smooth procedures, be more responsive and create win-win conditions for our clients", commented Gianluca Scavo, CEO of AIM Group International. "We decided to confirm it for a longer period of three years, when we are sure we can obtain more significant results".
"We are proud to further strengthen this partnership with such a top player in Italy, which is a "key country" for our Company. Together with AIM Group we're able not only to successfully meet our international clients' expectations but also to enhance our strong commitment in Italy in terms of consolidation, expansion and high-end business" – adds Hugo Rovira, Managing Director Southern Europe NH Hotel Group.
Do you want to be updated on our latest projects, events and the industry news and trends?
Please, subscribe to our quarterly AIM Insights Newsletter by clicking here