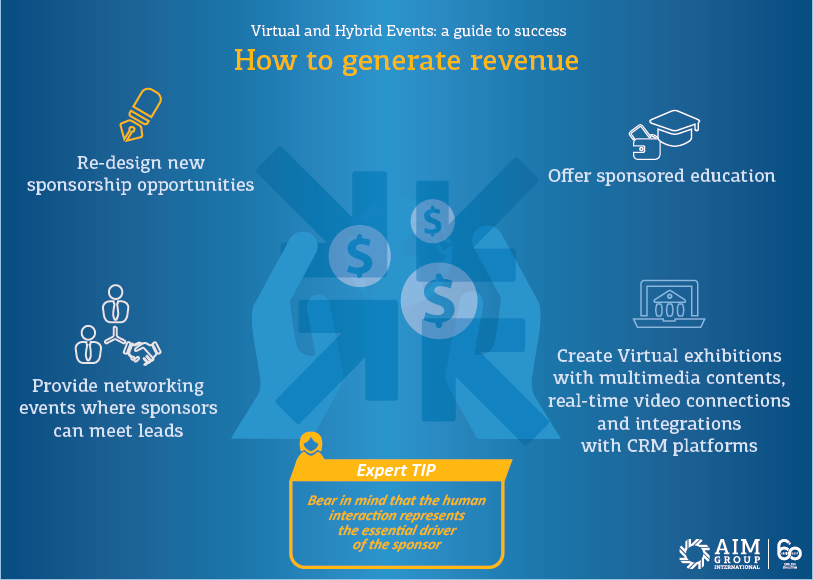 13-07-2020
Virtual and Hybrid Events: a guide to success 4/7
How to generate revenue – Digital Sponsorship opportunities and Virtual Exhibitions
If you aim to generate revenue, the virtual event has so much to offer. Since the context and channels are changed, you must think out of the box and re-design new sponsorship opportunities. To engage with decision-makers and delegates in a virtual environment, you need to offer a customized proposal, based on the needs of each sponsor, and provide communication opportunities that last beyond the dates of the conference and can reach a broader audience than normal.
In our experience, many event organisers seem to be afraid to charge a fee, others are the opposite and maintain fees at the same level as the live event. The ultimate decision is influenced by your strategy and the scope of your virtual event. Charging even a small fee is good practice, for measuring the engagement and loyalty of your community, the value of the content you are offering and the need for networking.
Any sponsorship offering should be meaningful. Engaging sessions and experiences need to be created for delegates. Virtual opportunities need to be created where sponsors or salespeople can present their offering, qualify opportunities, and gather leads. Digital technologies present a wide range of channels and tools to consider, however, it is the human interaction that still represents the essential driver of the sponsor.
Offering and supporting education is the preferred option. From webinars to meet-the-expert interactive sessions, sponsoring education, and networking activities is a good way to connect with virtual delegates.  Companies that are visible supporters of education can benefit from very effective branding opportunities.
Virtual exhibitions can be the most fancy and sophisticated piece of the virtual experience. Attendees can navigate a 3D immersive environment which is an exact replica of the intended venue. In our view, this means live presentation sharing, multimedia content (videos, brochures), real-time video connections between sellers and buyers, and integrations with CRM platforms.