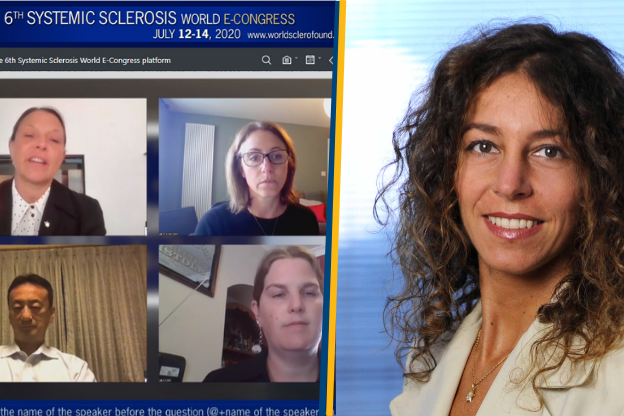 28-07-2020
The World Systemic Sclerosis Congress went successfully virtual
Supposed to take place in Prague last March, the event was postponed as virtual congress with a rich scientific program, interactive sessions, appealing space for sponsors and contributions from patients. It was a success, with increased numbers and good participation.
Due to Covid-19 breakout it was necessary to re-plan the 6th World Systemic Sclerosis Congress scheduled for March in Prague and find a new solution. At first, it was postponed to July as face-to-face event but when the date was approaching it was clear that for most of the expected participants coming from all over the world it was impossible to reach Prague. Considering also that the scientific programme was ready at 95% the postponement to 2021 was not the right solution. It was decided to make the congress fully virtual, with the objective of guaranteeing a good participation and the knowledge exchange, the interaction and the possibility for attendees to discuss with speakers.
Scleroderma is a rare and serious disease and has only been on the agenda of Rheumatology Congresses until a small group of specialised professors decided to dedicate an entire congress to all the issues, medical researches and related practices, with the support of AIM Group. So it is very important for attendees to share their views and experiences.
The solution chosen is a blended live and pre-recorded panel of presentations, uploaded into the platform even before the three-day live event (held 12-14 July) to give participants the possibility of viewing them in advance and be able to comment and discussed them during live presentations with more preparation. All the presentations are available on the congress platform until the 20th December, allowing registered participants to come back and easily consult them.
As for the sponsors, a virtual exhibition area was realised, with a multimedia library to consult and live Corporate Satellite Symposia were organised with interaction. The posters area presented a list of  +400 posters with 3-minutes audio presentations.
Furthermore, a second virtual parallel patients congress was organised involving a group of patients suffering from this disease able to intervene, ask questions or report direct experiences. One of the main features of the congress is that it gathers not only physicians, health professionals and researchers but also patients affected by this impactful disease. This feature has stimulated through the editions to embrace a patient-oriented point of view and to make concrete improvements on treatments.
The virtual congress was smoothly realised with positive numbers: 1.367 healthcare participants, with a +15% on previous edition, +300 patients connected; 5.235 viewers of the pre-recorded presentations, 5.802 clicks on the sponsors booths, 2.500 live attendees at corporate symposia, 9.600 visits to e-posters area.
The client was really satisfied from this first virtual experience, as Professor Marco Matucci-Cerinic, World Scleroderma Foundation President said: "We may say that we have learnt a lot with this experience. We look forward to see you in Prague in March 2022".
"Cancelling an international congress three days before its starting was the first time ever in my career and in my office " affirms Francesca Manzani, Head of Florence Office AIM Group. "It has been a challenging experience and we may say that we organized the same event twice: The first time in traditional mode and the second time switching it into virtual mode. The feedback of all stakeholders to such difficult decision was very collaborative and the positive congress results and figures pay back all our efforts".