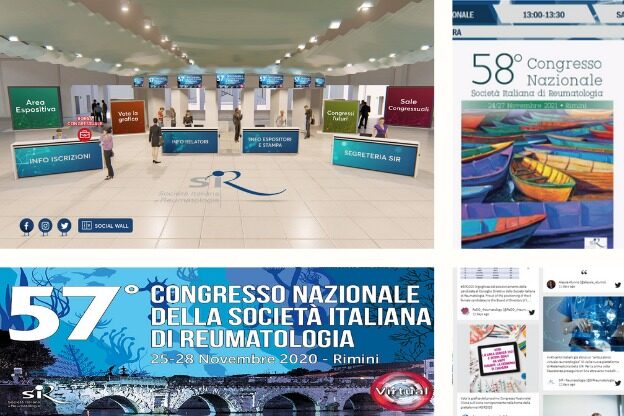 10-12-2020
SIR 2020 a virtual conference which surprised participants
SIR moved online due to newly imposed COVID restrictions, put in place one month before the opening, the annual conference of rheumatologists offered unexpected ways to engage and learn, much appreciated by delegates, the client and sponsors.
The National Congress of SIR (Italian Society of Rheumatology) was re-scheduled and planned twice due to the pandemic. The last version was supposed to be an hybrid event but one month before it opened new government rules at the end of November meant that is was finally celebrated as a fully fledged digital event, with over 1.200 participants.
"The annual congress of rheumatologists, that AIM Group International has been organising for several years, is a complex scientific event, with multiple parallel sessions, hands-on activities and social activities. When we had to turn it to a fully virtual event, we strived to preserve the high level content, engagement and learning experiences" explains Fabrizio Rizzi, Key Account Manager of AIM Group International.
A 3D setting for an appealing virtual event
A 3D platform was completely customised and reproduced the hall and exhibition area of the anticipated location i.e. Palazzo dei Congressi in Rimini. It was an appealing visual setting which was easy to navigate. Scientific content was rich and diversified. The platform allowed parallel sessions to run, which were all pre-recorded as a back-up solution. During the congress these were also streamed live, allowing participant live interaction with +150 speakers. One main challenge was to guarantee the realisation of the hands-on sessions, an important part of the congress, so it was decided to pre-record all of them in one green-screen studio and broadcast them during the congress. All content was made available until 30th June on-demand, allowing participants to consult over time all the sessions and content.
Multiplying sponsorship opportunities
Delegates were able to meet sponsors in the expo area, where virtual personalised stands offered the opportunity to contact or video chat company representatives, consult video, brochure, and other online resources. Other communication and branded activities, including sponsored symposia and multiple touch points.
Tired of zoom calls? Virtual networking can be fun
Networking was possible in the lounge, where participants could find all the personal profiles of the registered delegates. They could then interact in different ways even through a virtual game platform which was organised by the SIR Young Group. A quiz moderated by an anchor-man, and enriched by animated videos, involved participants, split them into teams in different virtual rooms, where they were able to collaborate and decide on common answers. Engagement was really high!
Even a run can be digital
Furthermore, the traditional SIR Run, organised to raise awareness of rheumatic diseases and healthy behaviours, was realised as a virtual run. We asked individual participants to record a video of their favourite places in their cities, while running. The selected videos will be used to create a short docu-film to be presented at the famous Giffoni Film Festival.
"We are really satisfied with the results and the positive feedback received from the client who recognized our capacity to quickly re-design the congress with a proactive and problem-solving attitude.  Also, the easily accessible, flexible, effective, and responsive virtual platform was much appreciated. We are now ready for the next challenge and events, whatever the format will be!" adds Fabrizio Rizzi.