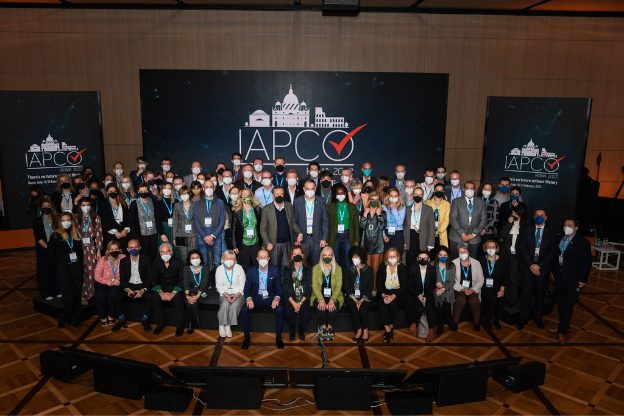 15-04-2022
Organising the IAPCO GA: a rewarding challenge
As an organizing committee we had to face many issues, planning and replanning the General Assembly to make it hybrid and interactive. It was an exciting opportunity to get back to the thrill of live events.
Patrizia Semprebene Buongiorno, Vice President, AIM Group International
When we decided to candidate Rome as host city of IAPCO's General Assembly & Annual Meeting, we could never have predicted how challenging it would be. Luckily, we took a good decision, together with our Partner Conference Organisers: ega worldwide and the OIC Group, we created a strong team. If we had to navigate the stormy sea alone it would have been even more difficult, once again, we witnessed that in our profession teamwork and collaboration is key. The evolving pandemic forced us to postpone the event, rethink the event and transform our plans from week to week.
Back Together!
Our industry has been forced to confront massive challenges during the pandemic which we have overcome with resourcefulness, creativity, and a smile on our faces. Our main goal with this meeting was to create a sense of IAPCO community, despite the difficulties that every member had to cope with in its market, despite the social distancing and the uncertainties faced. During these last two years, we have needed to feel close to our professional community. Industry associations like IAPCO have really proven their value to members during this challenging time. The support we received from all our industry partners, both the local ones and from IAPCO demonstrated how valuable long-term partnerships are. Such Partners see the value in going beyond a traditional 'client-provider' approach. We are extremely satisfied with their visibility and with their interaction with the attendees during the event. In fact, looking now at the final outcome, we can safely say that we are really happy to have been part of this adventure and we are very satisfied with the results, in terms of education, inspiration, discussion, knowledge sharing and networking. Finally, as many attendees commented, we really missed that!
Back to party!
Going back to in-person meetings for our community of peers was so exciting. We tried our best to create the correct atmosphere to celebrate the moment. At the beautiful Villa Miani, overlooking the city we organized the Gala Dinner with Dolce Vita as the theme. Everything was focused on the attendee's experience, and we succeeded to share feelings of togetherness, joy, relaxing and of course partying again! It was a memorable dinner.
What we learnt
Following this complex event organization, we learned some important lessons:
Know your 'why'. It was really important to know Why there was such a strong motivation to come back to a live IAPCO event. This motivated us and helped us overcome all difficulties.
Stay flexible and know your options. Being able to adapt and change quickly is key.
Choose the right partners. The event partners should operate as an extension of your own team, not just as a supplier.
Safety first, it is important to reassure our attendees and make them feel comfortable and at ease when meeting in person again.
One extra take-away (since we collaborated as three major PCOs). Harmony is the most important measure of success. The collaboration among competitors worked well because we were unified behind one main objective and one strategic approach. The commitment and skills of each partner can complete and complement each other. Collaboration is still competition, in a different way, and we all tried to do our best!
Finally, I would like to share some tips:
Communicate, communicate, communicate. Every decision, change, last-minute problem can be better accepted if you share the reasons why and inform each stakeholder.
Develop clear rules of engagement for all the partners involved in such a complex project.
Resolve eventual conflicts with transparency and identify decision makers who are responsible for the solution.
Thank you to all our colleagues, partners, speakers and delegates who contributed to make the IAPCO assembly an amazing coming back.
Read the full The PCO special issue dedicated to the IAPCO Annual Meeting 2022