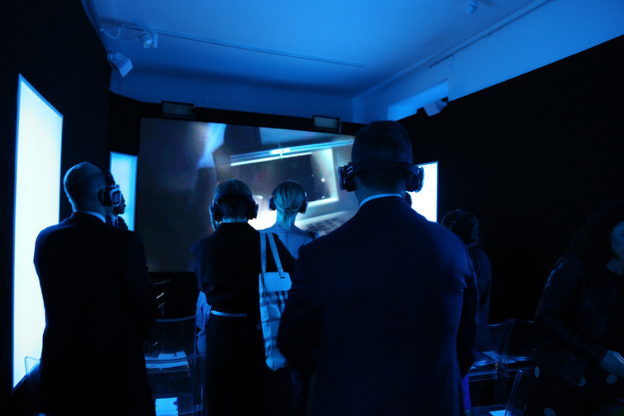 24-06-2019
The first experiential event on migraine at Milan Design Week
For the first time the pharmaceutical company realised an experiential event at the Milan Design Week focused on "re-design" migraine therapy. An highly-innovative format appreciated by more than 7,500 visitors.
Migraine is not a "simple" headache but a strongly disabling neurological disease that affects millions of patients. Understanding and physically feeling empathy for the issues of sufferers and imagining the design of suitable work environments was the goal of the experiential event that Novartis realised at the Milano Design Week with AIM Group as trusted partner. For the first time ever, the pharma company decided to propose an event at this famous occasion which attracts a very large public. The goal was to raise attention around this very common, but little considered disease.
The "Reimagine medicine: Re-DESIGN Migraine" itinerary stimulated the visitors to dive deep into the migraine problem with a three step experiential journey, brought to life in collaboration with the Italian designer Davide Radaelli. The journey included:
the Experience room, designed to encounter, in a truly immersive way, some acoustic and visual over-stimulation effects similar to those of a migraine attack;
the Migraine Concept Room, an interpretation of the concept of the ideal place for isolation, comfort and protection in which to shelter during an attack;
the Migraine relief room, a room prototype, small, functional, accessible and easily implemented in a business environment, which Novartis offers as a tangible potential solution for better management of attacks in the workplace.
The event was open to the public for 6 days and attracted more than 7.500 visitors, including two reserved events, receiving very positive feedback: visitors were intrigued by the experience offered, media gave attention to the disease, sufferers appreciated the solutions proposed and thanked Novartis for giving visibility to their problems.
"Organising this event was very exciting and challenging" says Silvia Pellò, Business Manager AIM Group International. "Because the Milan Design Week is a famous yearly appointment which attracts many visitors and sees hundreds of events organised, it is important to make your event stand out. Furthermore, the challenge was to communicate the experience of a disease to a larger public and not to the physicians and specialists. We are very happy that both the client and visitors were really satisfied!".
Do you want to be updated on our latest projects, events and the industry news and trends?
Please, subscribe to our quarterly AIM Insights Newsletter by clicking here