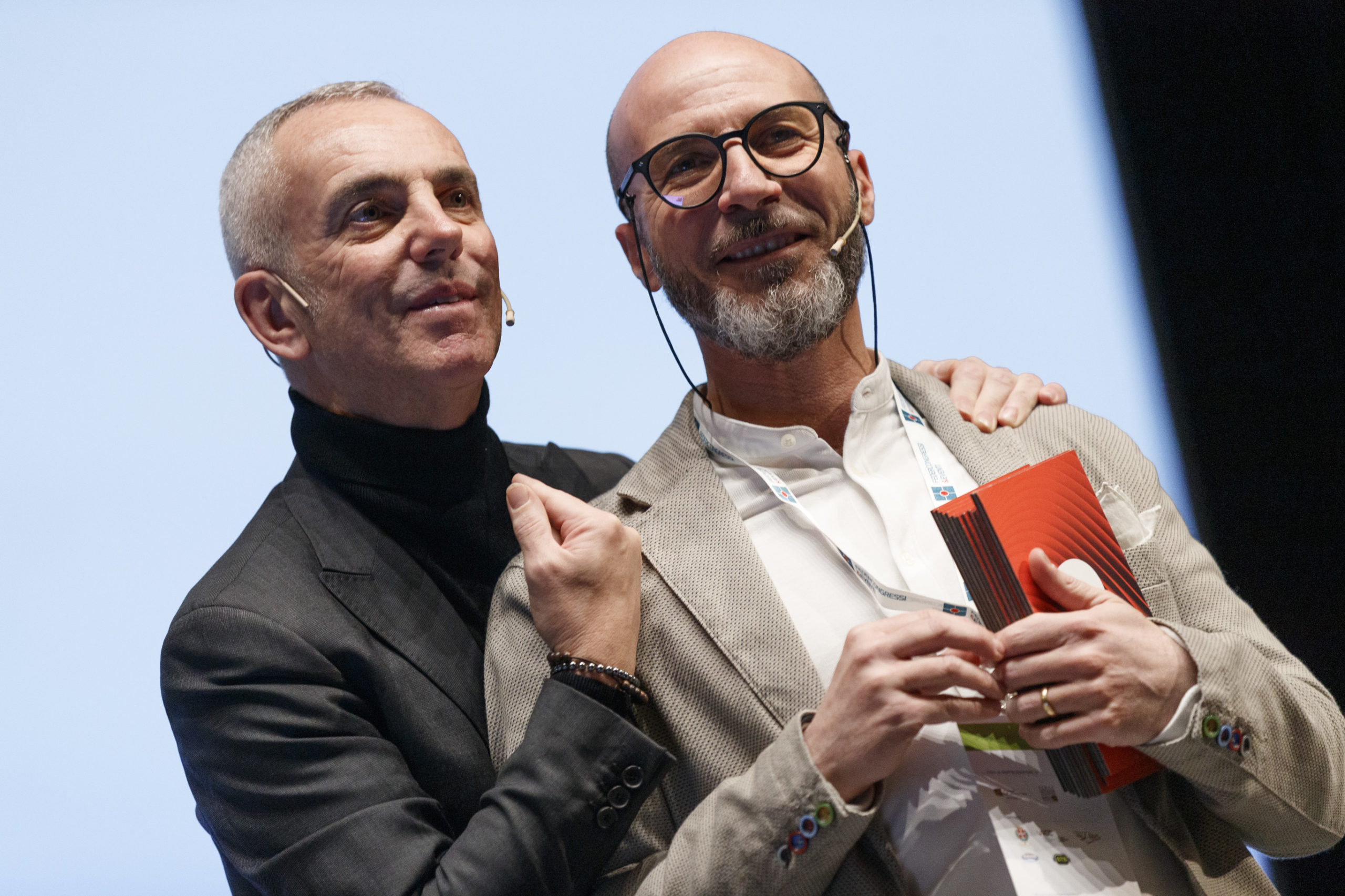 18-03-2019
How Emotions can boost the ROI of Events
AIM Group sponsored the vision lecture, focused on the value of communication and emotions at events, held at the Federcongressi&eventi XII Convention
How can emotions and communication boost the events results? How to transform corporate messages and key facts into effective storytelling, able to engage stakeholders and events participants? What is the storytelling today, in a digital, hyper-connected world?
These are some of the questions raised during the vision lecture conducted by Max Galli, President of vanGoGh communication agency (part of AIM Group International), and Federico Buffa, journalist at Sky and storyteller, at the Federcongressi&eventi XII Convention.
AIM Group has chosen to offer the community of event professionals, gathered for the annual assembly of the national meetings association, a lecture focused on some key aspects for succeeding when organising any event: the participants' emotional engagement and the event's storytelling.
"We are in an era where change becomes a necessity and where communication takes an increasingly significant role also in the world of events and congresses," said Flaminia Roberti, Global Sales Director AIM Group International, introducing the speakers. "This is why AIM Group recently acquired vanGoGh, an agency that makes creativity, digital experience and innovation its DNA. That's also why today we chose to deepen this topic thanks to the contribution of two professionals who put emotions, creativity and storytelling at the base of their art."
"In an era of Big Data, where numbers, artificial intelligence and strict approaches to communication dominate, a powerful driver of change consists in returning to the communication's roots and rediscovering the value and effectiveness of emotions," Max Galli pointed out. "However, at the base of an emotional engagement there must always be a creative idea and an inspiring story, which gives a central role to Humans, along with their habits, values, weaknesses and behavioural dynamics."
In particular, Max Galli and Federico Buffa highlighted how to build an effective storytelling:
• Focus on value. Identify the elements that characterize a brand's identity and transform them into narrative strengths. Nowadays brands are not statistical logos but must establish emotional relationships based on shared values.
• Involve. Organise micro-stories in an organic and engaging tale able to stimulate the identification of the readers. You must bring them into the story.
• Focus on emotions. The emotional level of the story is even more important than the content. It is essential to tell a story that the listener would like to hear.
• Pathos. Emotions that speak to the heart can move and push for change.
• Ethos. You need credibility, authenticity and consistency.
• Adapt to the interlocutor. Each story has to be addressed to a community with its rules, languages ??and style. It is very important to understand who you are talking to and put yourself in his shoes.
"Storytelling is a combination of engineering and poetry," noted Max Galli. "The story does not belong to the narrator, but becomes part of the listeners. Only if they recognise themselves in the story, they will keep the emotions with them for a long time".
Do you want to be updated on our latest projects, events and the industry news and trends? Please, subscribe to our quarterly AIM Insights Newsletter by clicking here