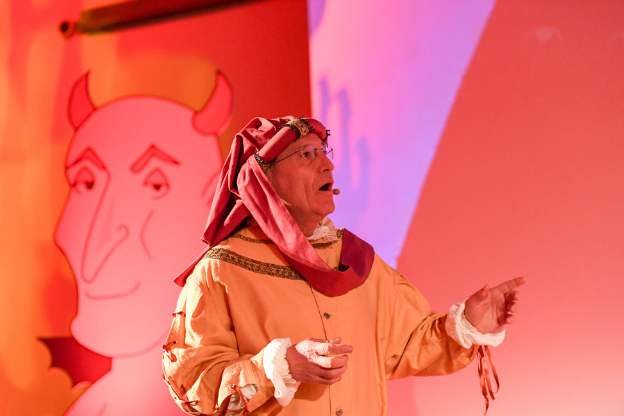 09-04-2019
How creativity can boost attendance and participant engagement
The 23rd Pinguini Pediatric Congress achieved the goals of attendees growth and active engagement thanks to disruptive communication and interactive activities
The last Pinguini Pediatric Congress exceeded all expectations: the attendance grew by 23% securing 1,100 participants, delegates were emotionally engaged and learning was never as good, while exhibitors recorded excellent interaction and engagement, thanks to strong visitor flows. How have these results been obtained? The new AIM Group Impact Story outlines the pillars of the strategy to build on the deep knowledge of the client's needs and congress history and respond with a focus on creativity and participant engagement.
In fact, the congress has greatly evolved over its long history, the last 14 editions were organised by AIM Group, with a strong identity, a unique opening ceremony and an original leitmotif that determined all the branding and collateral. Therefore, the main objective of the 2018 edition was to implement an effective communications plan, with a strong emotional and motivational message, and to involve participants in a memorable experience. Moreover, with the aim of exceeding 1,000 participants, for the first time, it was decided to hold the event at a larger congress centre, it was necessary to keep participants' attention high and stimulate plenty of interaction, even during the plenary sessions
Our solutions
In order to achieve this goals we implemented a strategy based on two main actions:
Encourage Participants to Be Creative
Taking inspiration from the Divine Comedy, since the congress is held annually in Florence, the cradle of the Renaissance, it was decided to integrate the sharing of scientific knowledge with local culture. To encourage participants to be creative, the entire congress was themed around one of Florence's greatest masterpieces, Dante's "the Divine Comedy". So we designed the congress visual identity, the room setup and scenic design, including big silhouettes of Caronte, Dante, Virgilio, Beatrice, and Cerberus. We created an astonishing opening ceremony, where the two presidents, dressed in medieval clothes, emerging from smoke and the flames of Hell to announce the event and welcome participants
Use the Audience as the Real Showstopper 
In order to foster active participation from delegates, the focus was on building a dynamic and open atmosphere and constantly encouraging interaction. Some of the solutions used included televoting systems, questions to the public, requests for feedback throughout all sessions. Short pre-recorded videos dedicated to specific clinical problems were streamed and the authors were at hand to respond to questions.  An actress poignantly portrayed as a teen girl trapped in the wrong body was used to demonstrate the delicate theme of gender dysphoria. Clinical cases of anamnesis were included where participants were asked to identify mistakes and propose different solutions.
The results was stunning and the congress identity was reinforced and its brand is now even stronger. The congress presidents have already asked us to develop the creative design for the next edition!
Read the full Impact Story online.
Do you want to be updated on our latest projects, events and the industry news and trends? Please, subscribe to our quarterly AIM Insights Newsletter by clicking here