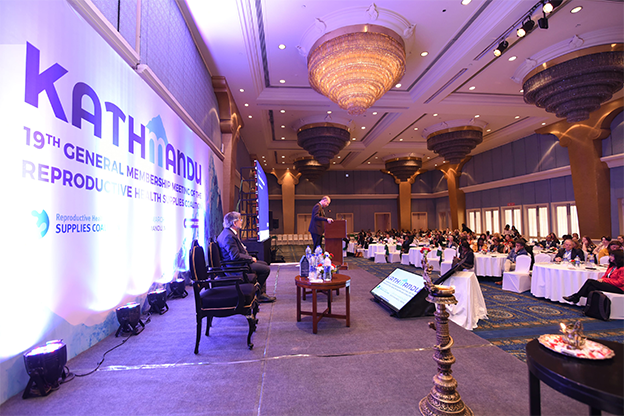 29-03-2019
Being global means going global
International experts of reproductive health have just met for a successful scientific conference in Kathmandu, experiencing a unique, growing destination.
Global Reproductive Health experts have just met at the foot of the world's highest peak, in Kathmandu, to share their visions and navigate the road ahead together. The RHSC's 19th General Membership Meeting (25-28 March), organised by AIM Group International for the fourth time, gathered more than 300 Reproductive Health experts and more than 60 speakers. The delegates and speakers came from all over the world to the capital of Nepal, which is quite an unusual destination for an international meeting.
Why Kathmandu?
The Reproductive Health Supplies Coalition chose to host the annual general assembly in Nepal, the country is facing some of the same reproductive challenges seen in other countries and has managed to put in place national legislation to improve women's health. It is hoped that the conference, involving local speakers and attendees, will leave a legacy to the local community in term of knowledge sharing.
Foster the learning
The meeting was characterised by highly interactive participation. Delegates actively discussed the results of the previous  strategy and set the goals and means for the future during plenary sessions, breakouts and working groups. A hands-on experiential group game was created to facilitate hands on learning. The "Beer Game" involved the entire audience to create a four-stage supply chain for oral contraceptives.
Managing an unusual destination
AIM Group managed all the congress organisation which meant that we had to guarantee the smooth running of the event in a destination where service providers are not so used to do the requirements of an international group of professionals. "We had to carefully select all our suppliers and double check that we shared the same expectations," explains Lisa Stern, Project Manager AIM Group Vienna office.
Something local
Nepal is a peaceful and a safe destination. The Nepalese people live in harmony and they take on their sometimes harsh local circumstances with a positive approach and a smile. The destination has the ability to inspire and also offered an opportunity to add a unique local taste to the meeting. "The association asked us to find ways to encourage motivation and fresh ideas among participants, so we suggested organising morning yoga sessions in the garden, with a local yogi expert. This new feature was really appreciated!" adds Lisa.
A place to return to
Nepal demonstrated its ability to offer a relaxing natural environment, one of the finest cuisines, exciting sightseeing and excursion programs, engaging activities and collaborative, friendly people. "Finally, it is a new meeting destination to further explore and return to" ends Lisa.
Do you want to be updated on our latest projects, events and the industry news and trends? Please, subscribe to our quarterly AIM Insights Newsletter by clicking here