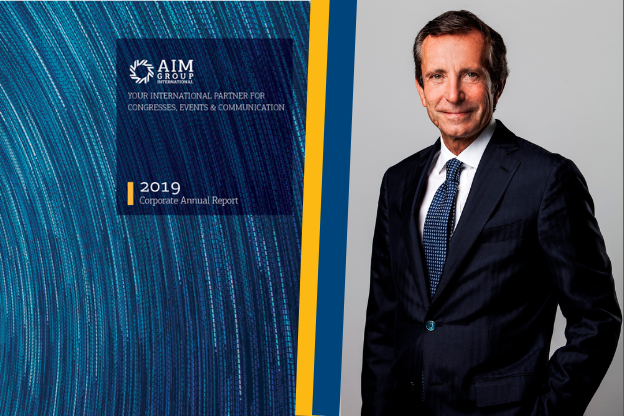 07-10-2020
AIM Group presents its 2019 Corporate Annual Report: positive results provide a solid base for challenging times
Increased turnover, positive EBITDA and targeted investments secured the company's success in 2019. These results have become even more relevant in the face of the current global crisis.
AIM Group International publishes its Corporate Annual Report 2019 and announces positive economic and business results. These results, on the one hand, highlight how the recent health emergency has put a brake on a cycle of growth for the group whilst, on the other hand, provide reassurance on the ability to face up to the current challenges.
The diverse activity of the Group companies, the solid economic results, and the ability to enlarge the scope of business and services has yielded positive and significant results in 2019 at different levels, confirming AIM Group as a market leader in the conference and events space.
Looking deeper into the economic results, the 2019 Consolidated Balance is positive, the overall turnover was higher than 2018 and a positive EBITA was reported. The EBIDTA is almost 2.7 million euro, the overall turnover is 106.6 million euro, representing a +7.7% increase. The overall turnover is 120 million euro when including companies not fully owned by the Group.
"The 2019 results highlight the Group's ability to manage our medium to long-term strategies", comments Gianluca Scavo CEO AIM Group International. "We also recorded above average market performance. We have continued to post solid margins which have been realised through a clear vision of the future and targeted investment in technology, processes, products, infrastructure and resources".
2019 Highlights:
2019 Consolidated Results: Turnover 106,600,000 euro (+7,7%), EBITDA 2,700,000 euro.
3.000+ event experiences managed for 400 corporate and association clients, over 6.600+ event days, 400.000+ participants managed and 410.000+ room nights booked in 90+ destinations.
A new office in Dubai has strengthened the international network to include 17 offices.
The further acquisition of the majority stake of VanGogh creative communications agency has diversified our offering.
Several international awards received for outstanding events projects.
"The positive economic results confirm the stability of our Group and are particularly important now as we face today's extraordinary market situation", outlines Gianluca Buongiorno, President of AIM Group International (above in the picture). "The global pandemic which spread suddenly and completely disrupted our industry, forced us to review our business plans and to focus on service innovation, with a major shift to virtual and digital events and internal reorganisation".
"Although an unprecedented, unfavourable context, we look with confidence to the future, trusting our expertise and solid organization, to organise the major national and international events trusted to us  right through to 2025. We know that we can count more than ever on our values ??and our strengths, in particular on our teams who commit themselves with passion and professionalism, our innovative mind-set, deep market knowledge and on our determination which has stood the test of time during our 60 year history" concludes Gianluca Buongiorno.
The complete Annual Report 2019 is available on the AIM Group website.
AIM Group at a glance: