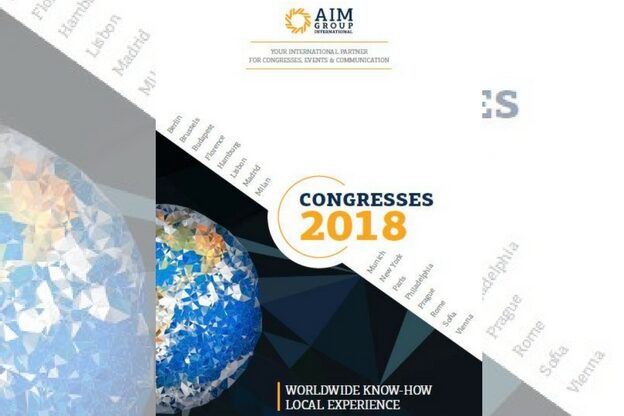 21-03-2018
Press Release – AIM Group International Wins Important Medical And Scientific Congresses
Milan, 21st March 2018 – AIM Group International strengthens its presence in the medical and scientific field thanks to the acquisition of three important national conferences: SIFO 2018 – XXXIX National Congress of the Italian Society of Hospital Pharmacology and Pharmaceutical Services of Healthcare Companies, SICP 2018 – XV National Congress of the Italian Society of Palliative Care and SIGG – National Congress of the Italian Society of Gerontology and Geriatrics.
"Thanks to our vast experience in the medical field we have gained a profound knowledge of the scientific associations world and we are able to understand, and sometimes to anticipate, their needs. We can therefore insure, thanks to consolidated partnerships, the achievement of desired objectives, in terms of scientific contents, expected attendance and economic ROI. The acquisition of these important congresses demonstrates, once again, our winning approach," outlines Flaminia Roberti, Global Sales Director of AIM Group International.
Among the many international medical and scientific events on the AIM Group's portfolio for 2018, there are:
– 5th Systemic Sclerosis World Congress, Bordeaux, February;
– 11th SLEuro European Lupus Meeting, Dusseldorf, March;
– 86th EAS – European Atherosclerosis Society Congress, Lisbon, May;
– 28th ESH – European Meeting on Hypertension and Cardiovascular Protection, Barcelona, June;
– 16th ECDMFR – European Congress Of DentoMaxilloFacial Radiology, Luzern, June;
– 18th ESASO – European School for Advanced Studies in Ophthalmology, Warsaw, October;
– EANS 2018 – European Association of Neurosurgical Societies, Brussels, October.
The newly acquired events will involve the related scientific communities in important destinations and conference venues. SICP will be held in November at the Riccione Palacongressi where more than 1,300 participants are expected; SIFO will be held in November at the Mostra D'Oltremare in Naples where 1,500 delegates are anticipated; SIGG will be held at the end of November at the Auditorium della Tecnica in Rome and will gather more than 1,000 doctors.