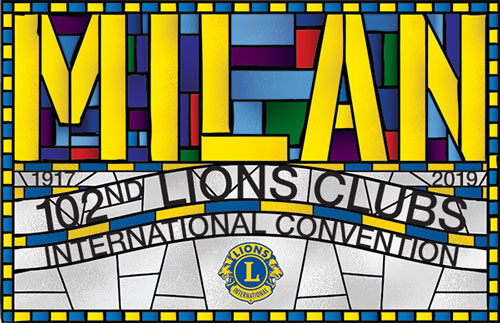 05-07-2019
AIM Group International main partner for the mega event Lions Clubs International Convention Milan 2019
AIM Group International, a leading company in congresses, events and communication, is a main partner of the 102° Lions Club International Convention to be held in Milan 5-9 July 2019. More than 25,000 participants from all over the world and 150 territorial delegations are expected in Milan.
This mega convention will be hosted at MiCo Milano Convention Center and will involve numerous social, charity and flagship events that will take place across the whole city for several days. On Saturday 6th July, a spectacular International Parade of Nations will wind through the city centre and will be attended by more than 10.000 delegates from 125 nations, wearing their traditional costumes and holding their flags and Club banners.
The joint effort of a successful bid team comprised of Fiera Milano Congressi, the Municipality of Milan, Lions Club Italy and AIM Group International secured Milan as the venue for this year's event. It was a great success since it is the fourth time that the annual world convention came to Europe in the long history of the international association, and the first time to an Italian city. The Lions Club estimates that this convention will greatly benefit the travel, hospitality and conference economy, generating an estimated €60 million in revenue for the destination.
"We are really proud of the part we played in bringing this mega event to Milan" declares Gianluca Scavo, CEO AIM Group International. "Lions Club has a long-standing history in Italy and this event will involve the entire city with the magnificent Parade, extensive charitable & service projects and many social events held every day. The event will have a lasting impact on the memory of the Milanese citizens".
To date, AIM Group has supported the smooth organisation of this complex mega event and as experts of the destination developed a personalised program, offering delegates memorable experiences in special locations with a truly local taste.
"Mega events are as complex as they are exciting" underlines Gianluca Buongiorno, president AIM Group International. "By being appointed to realise this global association event, we reaffirm our ability to provide effective and bespoke solutions to a variety of sectors, clients, events and audiences".
Leveraging the varied cultural, artistic and gastronomic assets available in Milan, AIM Group has organised a custom-made social program, gala dinners, entertainment, and provided extensive experiential activities, from cooking demonstrations to photographic safaris; from workshops to shopping; from cultural visits to excursions to nearby lakes. Also, AIM Group designed tailored-made pre- and post-convention tour packages to offer worldwide delegates a taste of Italy, visiting other fascinating destinations, from Florence and Venice to Positano and Sicily.