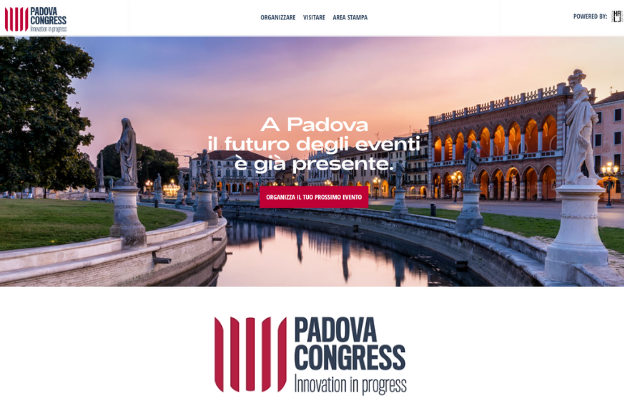 21-12-2021
AIM Communication presents the new Padova Congress in Padua, Italy
The branding of the new congress center of Fiera di Padova was presented at a recent press conference with the official opening expected in the first quarter of 2022.  
The opening of the new Congress Center of Fiera di Padova is fast approaching. The name of the new centre is Padova Congress. At a recent press conference, the branding, logo and website, which were designed by AIM Communication, were unveiled. The brand concept links to the heritage and history of the Italian city which is evident in the beautiful new website padovacongress.it.
Everything is ready for the start of a busy season of large and small events that will attract thousands of delegates and visitors to Padua. There are 23 congresses and conferences already scheduled between now and 2025 for more than 18,000 participants. 15 of these will be held during the 2022.
Fiera di Padova retained AIM Group International for the branding and launch of its new Congress Center. AIM Communication managed all communication activities related to the launch of the new location. The branding strategy, the development of the creative communications concept and the new brand identity, including the name, logo and corporate identity; the architecture of the website, its user experience and user interface; newsletters; social media strategy, etc.
The construction of a new Congress Center in Padua is part of the evolution of the exhibition centre as an "innovation hub" offering a variety of services: exhibitions, events, scientific and university research, technology transfer, innovative start-up incubation. The hub will act as an open space that facilitates the development of projects and frees up energy.
Designed by the Japanese architect Kengo Kuma as a multifunctional and modular space, the Congress Center includes over 12.000 square meters. It has two main meeting rooms, with capacity for 1,600 and 1,000 people respectively, and includes six spacious breakout rooms. Thanks to the modular mobile panels, the capacity can also be varied into dozens of combinations. The Padova Congress also features a modern press room, a restaurant with a terrace and a bistro. Last but not least, there is also a possibility to use the adjacent spaces of the fair when the numbers of delegates are high.
Check out this video which presents the logo and the name of the Congress Center.