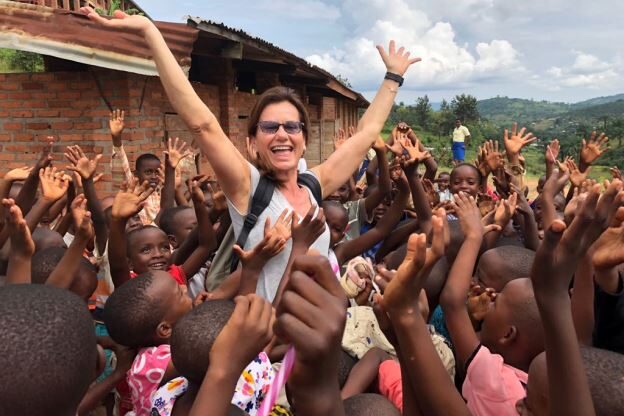 19-06-2018
A trip to Burundi: bringing CSR to life. Learning outcomes for companies and event professionals
Growing from the support to an association of doctors active in Central Africa, to the realisation of a rehabilitation centre, a volleyball court and now a basketball court, how a CSR project develops step by step and can be contagious!
By Patrizia Semprebene Buongiorno
When we started supporting the Bubanza community in Burundi, several years ago, we didn't image that the link to this place would go so far and that we would contribute to changing the lives of so many local residents. Bubanza is in a remote area of a very poor country, one-hour drive from Burundi's capital Bujumbura, and faces many different problems.
The CSR projects carried out by AIM Group International – and later, independently, also by IAPCO (International Association of Professional Congress Organisers) – helped to gradually improve the village's services, thanks to careful listening to local issues and a bit of imagination. Creativity and a deep understanding of local needs and stakeholders are in fact crucial to identifying the most useful actions, procedures and timing. Enthusiasm is a must, to overcome problems and to gather support and funds, but perseverance is obligatory as well. And most of all, you mustn't be afraid of getting personally involved.
At the beginning, AIM Group chose to support FIMAC (International Foundation Doctors for Central Africa), a non-profit organisation that aims to improve the health conditions of people in Central Africa through cooperative humanitarian projects. In particular, we have funded FIMAC's projects in Burundi.
In 2012, as member of IAPCO board, which gathers the most important Professional Congress Organisers, we proposed to endorse the FIMAC project in Bubanza Hospital as the association's CSR activity. They accepted and IAPCO started supporting the management and care cost of the hospital beds.
Afterwards, when we visited the local hospital at Bubanza, we realised that very often, after the surgical operations, patients with orthopaedics issues were left alone and ended up with permanent or significant disabilities. That's why AIM Group decided to create a Rehabilitation Centre, named after the Group's founder Enzo Buongiorno, to help people with motor disabilities and to offer post-trauma treatment and post-surgical rehabilitation. In 2013, we realised inside the hospital an area equipped to more closely follow post-operative rehabilitation and in 2016 we opened a fully-dedicated rehabilitation centre.
Since its opening, the centre has treated 555 patients, 299 of which were under the age of 5. The little patients are treated for handicaps linked to physical impairments such as instability of the bones, joints or muscles leading to substantial restriction of movement. Some common conditions giving rise to motor disabilities are poliomyelitis, cerebral palsy, muscular dystrophies, amputation, fractures, or injuries of spine, head, soft tissues, etc.
But that is not all. Getting to know the life conditions of the Bubanza population in more depth we noticed that the local school lacked the basic infrastructures we take for granted such as sports courts and equipment.  So we promoted a crowdfunding campaign in Italy to build a volleyball court, where children and students can share entertaining moments and learn the positive values of sports.
Later, IAPCO decided to promote the project "Brighten the life of a child" in favour of the same school with the aim of realising a basketball camp. After a pause due to serious political instability which made the country quite dangerous, in April 2018 the basketball court was opened with a big event attended by all the local community including doctors, professors, students and their families. They celebrated this moment with great joy!
During the latest mission to Burundi we had the opportunity to see for ourselves the impact of these projects and how we have helped families to accept and treat disabled children, how children can enjoy their free time and play together and how all the community is gradually raising its quality of life. These results have been made possible thanks to a long-term vision, determination, team working and a shared enthusiasm leading to the achievement of bigger and better goals in the future.