IASP 2020 Virtual Conference
Connecting the Human Factor: People, Communities and their Innovation Ecosystems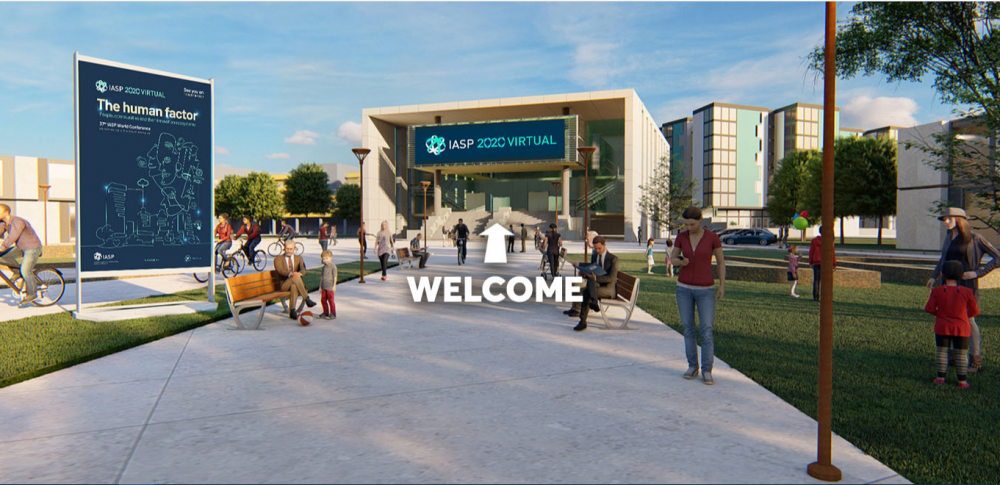 Clients: (IASP) International Association of Science Parks and Areas of Innovation
Location: ONLINE
Solution: Virtual, Digital & Hybrid Events
"The global community of innovators, from advanced science parks and innovation ecosystems, completely innovated their annual conference, pivoting to a brand-new way to meet during their first full virtual congress".
CLIENT CHALLENGE
The International Association of Science Parks and Areas of Innovation (IASP) is the global network for science parks (STPs), innovation districts, knowledge cities and other areas of innovation (AOIs), supporting its members to drive growth, internationalisation, and effectiveness.
For the 2020 edition of their annual world conference, due to the global restrictions to gatherings and travels, they took this opportunity to drive innovation among their members also in this field of activity and decided to move the event to a full digital experience. The key objectives of the event were:
Replace the planned Annual Conference due to take place live in September 2020, in Seville with a virtual conference.
Surprise, entertain and satisfy a Global Community of managers, operating in the creative and inventive environment of Science Parks and Areas of Innovations.
Demonstrate resilience: highlight the role of the Organization in ensuring vitality and engagement despite the difficult times.
Deliver rich and meaningful content to live up to the expectations of the live conference.
Knowledge sharing: hear from practitioners, experts and leaders working in innovation ecosystems worldwide as they share their unique perspectives, providing both a truly global overview and regional and sector-specific insight.
Working alongside experienced event professionals, to produce a best-in-class virtual conference on a robust platform that was both successful and seamless and embraced technology for the best possible user experience.
Pivoting the meeting to virtual meant a delay and resulted in a slight postponement to early December. By this time, virtual fatigue was inevitable; the audience had presumably consumed hundreds of hours of online material and were unlikely to make allowances for a 'new' format. Both these aspects were taken into account during the selection process of the digital platform to be used to host the event and the overall technical approach.
Intended for a worldwide audience, the program was scheduled for a lengthy 10 hours each day; the idea was to deliver 'live' sessions with active discussion to all the different regions and time zones.
Other innovation players had already delivered attractive virtual events, some of which were free of charge, whilst IASP needed and intended to charge a small fee. There was no doubt that IASP wanted to significantly increase its profile and stand out from the crowd.
The available Budget was adequate but not unlimited. Moreover, sponsors and exhibitors were not used to the opportunities presented in the virtual environment and were suffering financially from the impact of the Pandemic.
OUR SOLUTION
Recognising the association's needs, the international digital team in charge of the event organisation put together a virtual conference format that was particularly innovative with the following unique features:
AIM Communication, the communication hub of AIM Group, developed a proprietary platform for virtual events that responded perfectly to IASP's requirements and supported the event's strong identity.  We opted to use a 3D virtual setting with appealing visuals which was completely customised for content sharing and networking and was easy to navigate. Particular attention was given to consistent branding of the platform, A visually appealing IASP Forest was used as the backdrop to the virtual venue setting. Delegate's reactions were expressed with customized emojis.
Virtual networking can be easy and so worthwhile. IASP felt it was important to give ample space and time for virtual networking. In the knowledge that delegates would be missing human interaction and the chance to meet IASP colleagues from around the world, a tool provided by Gatherly was used to make ice-breaker sessions more spontaneous. This offered a real opportunity to meet and video chat with other delegates, with many turning on cameras and joining random smaller groups to say hi as would happen at an in-person conference. Another tool that was popular was a Presenter Wall which was an App used to collect first impressions, launch polls and surveys and attract participants through brief moments of gamification.
To engage the delegates, we made them become the story tellers: delegates were able to tell their stories during 'quickfire' style interviews and other engaging formats, presenting their innovative projects. A competition for the association's Inspiring Solutions Award brought many innovative projects including ones that involved fighting the pandemic and supporting local communities in these difficult times.
Sponsors on the spot. The virtual sponsorship platform provided online exposure and networking opportunities for all sponsors. An exhibition area offered the opportunity to visit and navigate the company stand, consult brochures, watch promotional videos, click on external company links and establish a direct contact with company representatives, arrange an appointment and chat.
Communication was key. IASP developed a compelling narrative to keep the Community involved and engaged by promoting keynote speeches and revealing new formats.
​
OUTCOMES
WHAT WE WOULD DO AGAIN:
 Hire a Master of Ceremonies to act as an online facilitator, anchoring all the event sessions, encouraging participants to interact and network and keeping attention levels high, entertaining the audience, filling up last minute appearances and explaining potential glitches.
Pre-record a (good) number of sessions, thus safeguarding against bad connections, delays, missed speakers and moderators.
Promote a sustainable initiative: IASP offered to plant a cocoa tree in Cameroon for each registered delegate, thus creating a real IASP Forest. This created an emotional link with every delegate who geolocated his/her tree and received a certificate of ownership. It also achieved IASP's goal to leave a positive impact on the environment.
WHAT THE CLIENT SAID:
BEFORE
There's a first time for everything
Things turned out quite differently, but knowing our team, members and friends we still managed to make #IASPvirtual just as special as every global IASP gathering. As we count down to our conference dates (1-3rd December 2020) we are even discovering that the online format can actually be a positive feature, not a flaw! For the FIRST time in IASP's history we are all the same distance from our annual world conference venue, with content just one click away and available on demand to watch at your own pace after the conference.
DURING
It looks smooth and easy from our side of the screen, but that's because we've got a tech team worthy of NASA working hard behind the scenes! #IASPvirtual
AFTER
Ebba Lund, IASP CEO, commented: "These are difficult times to keep international networks running at full speed and for making new connections. Thanks to the active participation of our speakers and delegates at IASP Virtual, I think that we managed to do it. I am proud of our team and our members. They ensured the enormous success of our first ever virtual conference bringing our global community together despite the challenges. We didn't just talk about our main theme "The Human Factor: People, communities and their innovation ecosystems" at IASP Virtual, we lived it in the three days that our global community spent together online. With a programme that covered a range of international time zones, IASP Virtual demonstrated how global community building is still possible without even needing to travel!".
You can download the IASP Virtual Impact Story in pdf.