A Sustainable, Enriching, and Engaging Conference!
Boyden World Conference 2023 in Madrid earns Sustainability Certificate for Environmentally Friendly Practices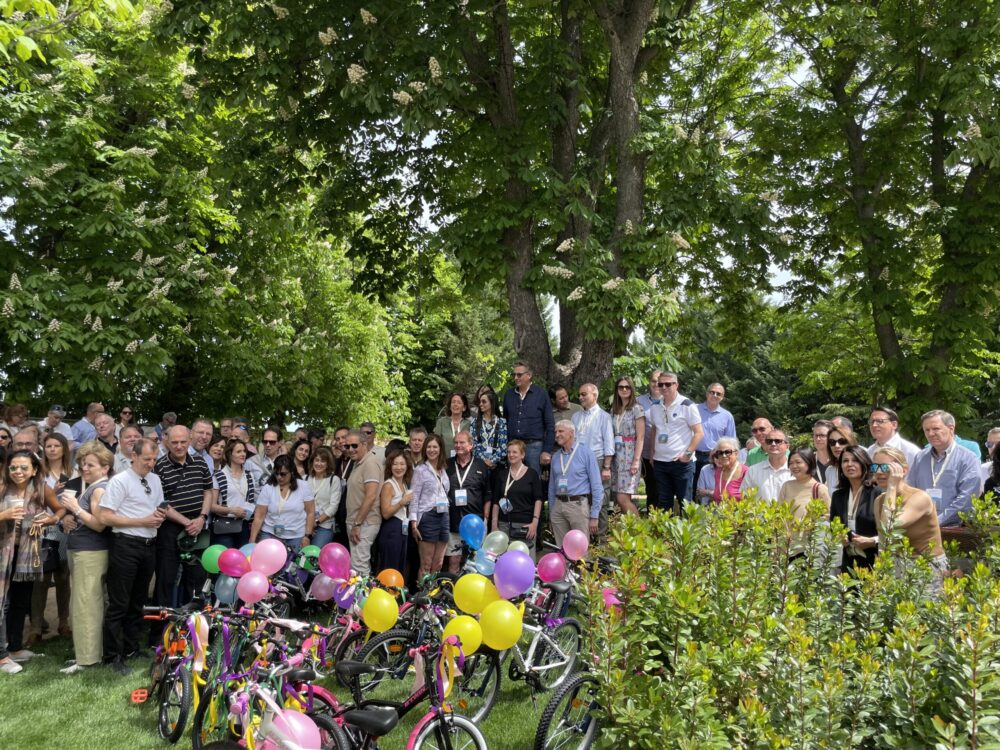 Clients: Boyden
Location: Madrid
Solution: Conference Management
Being sustainable means organising simple events or renouncing creativity and fun? Not at all! You can offer memorable experiences and at the same time benefit the environment and leave a legacy for the local community. That is what AIM Group Spain Office achieved at the recent 4-day, Boyden World Conference 2023, which was awarded a sustainability certificate by Eventsost, recognizing its commitment to environmentally friendly and socially responsible practices.
THE CHALLENGE
To ensure that the annual conference remained as engaging and rewarding as ever, whilst for the first time reducing the carbon footprint, leaving a positive legacy and achieving certified green status.
Engaging and Sustainable!
Obtaining sustainability accreditation required the team to meet specific criteria covering various aspects of the Boyden conference. These criteria included:
Accommodation and venue: The selected hotel and venues had to have sustainability policies or certification in place. Maximum room temperature must be no higher than 19º or 27º, depending on the season. Environmentally friendly engines such as EURO 6 type C and D compliant engines were used for all transfers.
Communication: Printed agendas and menus were replaced with electronic signage and networking apps were employed to minimize business card usage.
Carbon footprint was reduced by ensuring lights in meeting rooms were switched off when not in use, temperature control, selecting venues within walking distance or close to hotels, and by using plantable badges and organic cotton lanyards.
Materials were carefully selected, avoiding the use of plastics, opting for sustainable decoration and eliminating single-use materials.
Suppliers with sustainable practices were prioritized.
Waste management was optimized by enforcing recycling policies and providing clearly marked waste containers in conference rooms.
Food and beverages: , A Km 0 policy was adopted, organic, fair trade and seasonal products prioritized, and red meat excluded.
Boyden also decided to leave a legacy by planting of a tree for each participant, an impressive total of 220 trees, compensating for 100,45 tons of CO2.
An Immersive Event
This environmental focus didn't distract event organisers from planning a rich program, which gave participants the opportunity to experience the best of the destination and to attend engaging meetings and networking activities.
The conference took place in Madrid, spanning four days and attracting 210 attendees.
It featured a total of 24 sessions, including general sessions, workshops, and seven activities comprising four cultural visits, three networking cocktail dinners, and a grand gala dinner and awards ceremony.
The social program explored Madrid's most iconic aspects: from an exclusive tour of the world-famous Prado Museum and visits to other notable exhibits like the Reina Sofia and Thyssen museums, to an exceptional dinner crafted by a renowned executive chef and a stunning rooftop cocktail reception for the Awards Ceremony at Casino de Madrid,  and included fascinating excursions to the old historical centre of Segovia and Toledo and an exploration of Madrid's de los Austrias area.
A team-building activity was also arranged: assembling children's bikes as part of a challenge entertained the group and brought them together. The bikes were later donated to underprivileged children, reinforcing the legacy left to the local community.
THE RESULTS
Eventsost, the independent company responsible for international sustainability certification within the events industry, awarded the conference its Sustainable Certificate following careful evaluation of the event throughout its lifecycle.
"This certification reflects Boyden and AIM Spain's determined commitment to sustainability and our efforts to promote sustainable practices within the events industry" outlines Angeles Moreno, Country Manager AIM Spain. "This was the first time that both the client and AIM Spain had pursued green certification and prioritized sustainability within our event design. We were all eager to contribute to an environmentally conscious event and are thrilled to have achieved the certification. This is just the start of a new era, where sustainable and innovative practices will be integrated within our standard working practices.